Did you ever want to have a mini drone with the size of a smartphone? Read on before buying...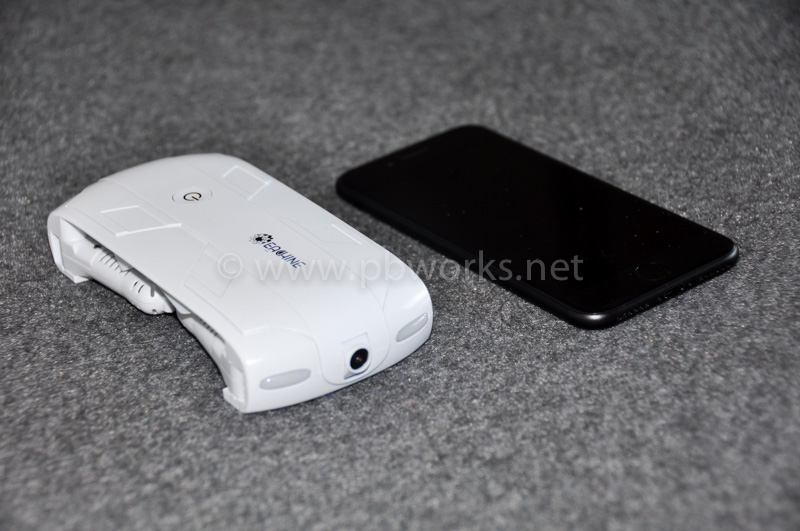 Eachine E50 WIFI FPV With Foldable Arm Altitude Hold RC Quadcopter RTF - only 41 USD !!!
(price checked and last updated on 2017-03-21)

Technical details
Size: 13.5 * 6.5 *2.5 cm (arms folded) - 13.5 * 16 * 2.5 cm (arms unfolded)
Weight: 73g
Flying time: 8-15 minutes
Battery: 500 mAh (included) - compatible with other mini batteries, I tested it with a 250 mAh battery (from my Eachine H8 Mini) but I had a very short flight (around 3 minutes)
Charging time: 120 minutes (USB adapter included)
Camera quality: 720 x 578 px (recording on the smartphone/tablet)
Built-in barometer: included (to hold the altitude, very nice feature for a mini drone!)
Many more features, check the product page
Unboxing and test flights
The Eachine E50 box is like the one of a smartphone. Quite elegant. I liked all contents provided in the box, especially the mini drone of course.
The arms (containing the propellers) can be expanded just like the DJI Mavic Pro, like this: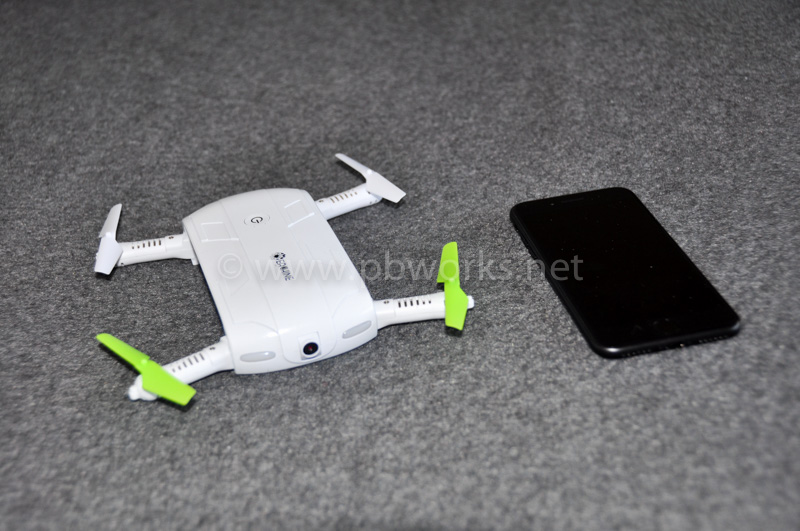 To turn it on you just press the power button and the front lights will turn on, just like a car: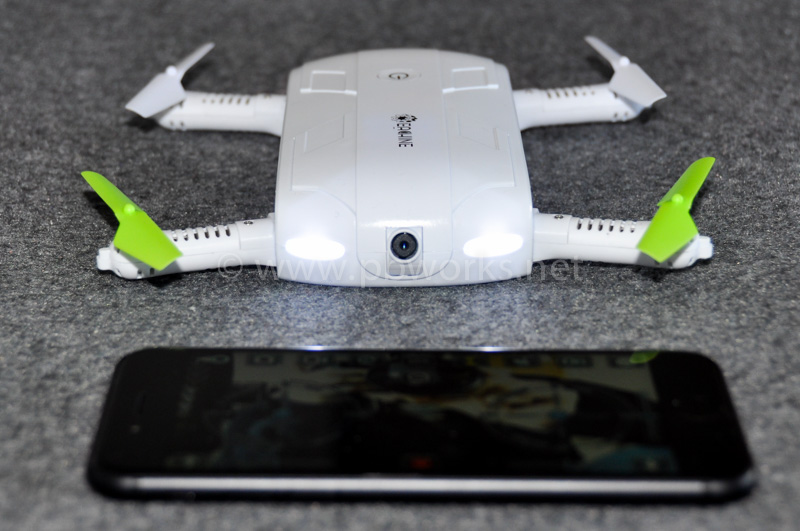 Tell me if this isn't a bad ass mini drone just by the looks!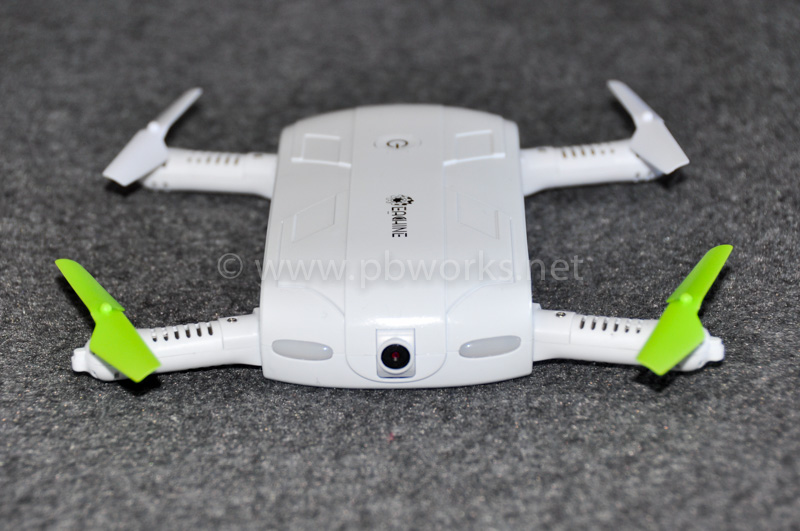 You control this mini drone via smartphone or tablet with the WiFi UFO app. In the instructions they provide a QR code pointing to the wrong app, so don't even bother installing that app, it doesn't work. Use these apps:

WiFi UFO app instructions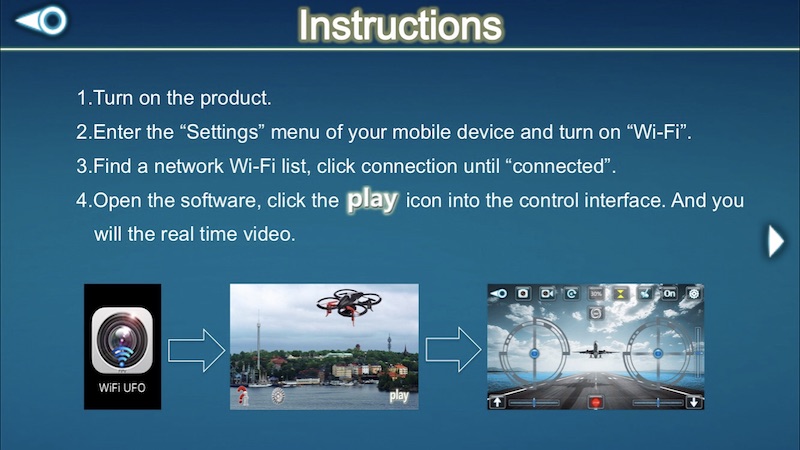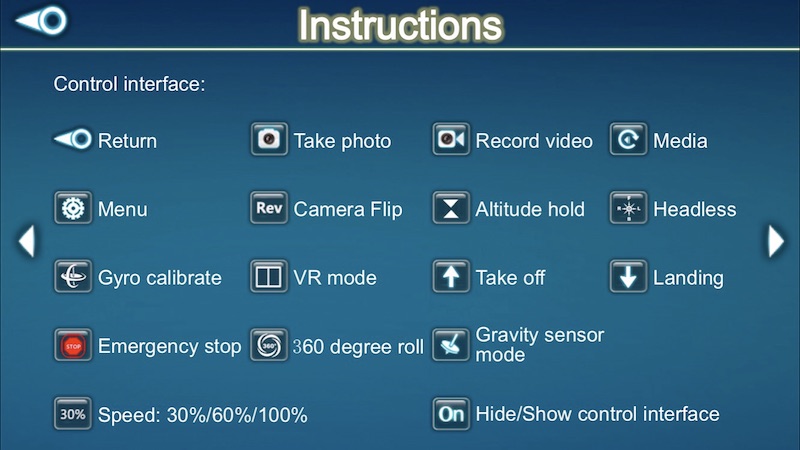 To begin, turn on the mini drone, then after a few seconds on your smartphone or tablet connect to the "Eachine" WIFI (the number after "Eachine" can vary) :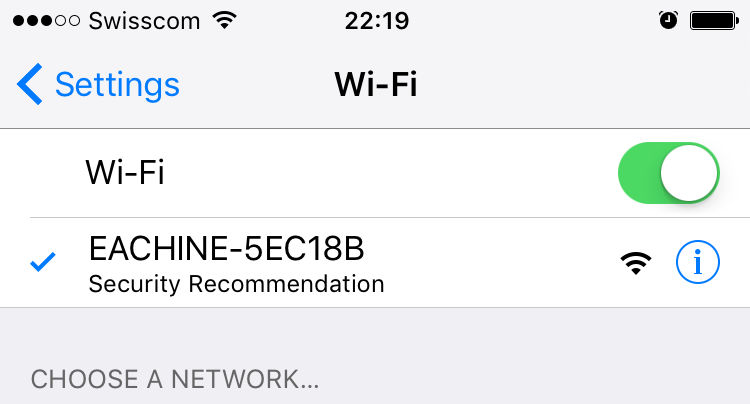 When you open the app, the initial screen looks like this, touch "play":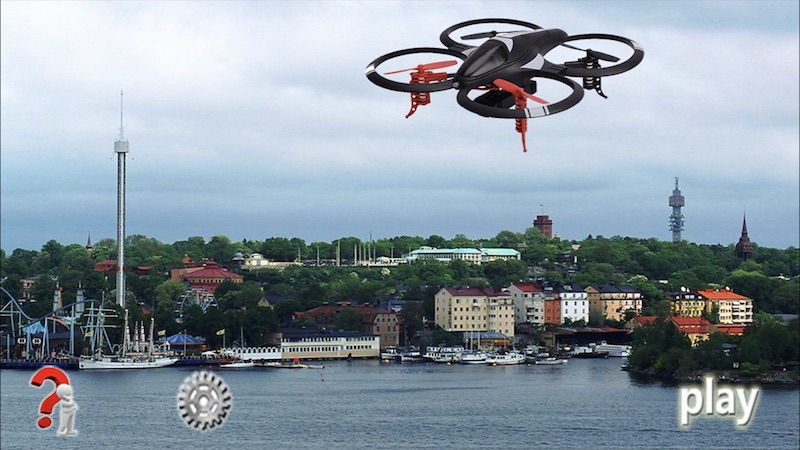 If you connected to the Eachine WIFI, you will see the drone camera view: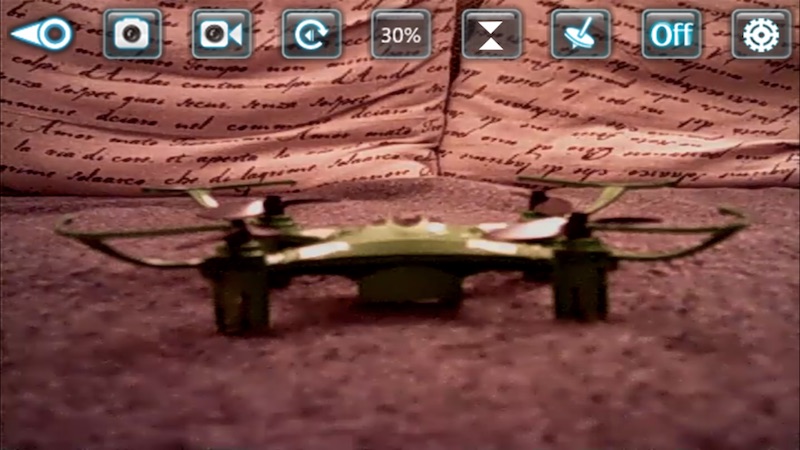 Now touch "Off" to show the controls: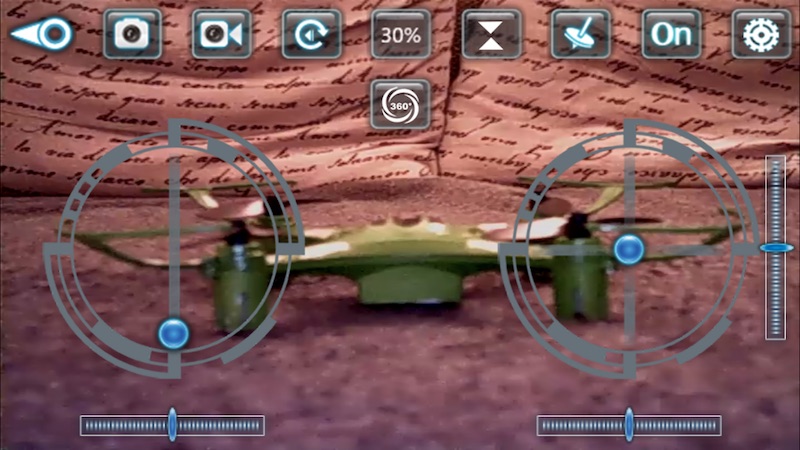 You're almost ready, touch the hourglass icon (the one after "30%") to show the controls to be able to take off and to land: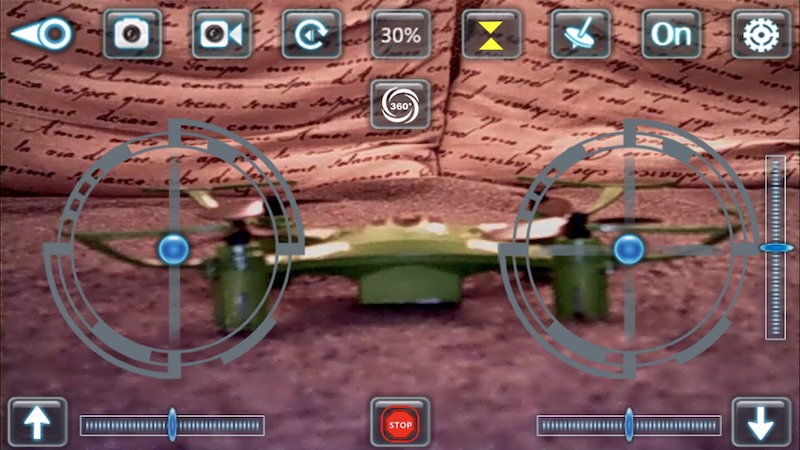 Now you are ready to fly. Make sure that the 1st time you try this where you have a lot of space. Don't try this indoors if you are not an experienced RC pilot! Go outside, find a place with a lot of grass, try thee to get familiar with the controls. When you are experienced you can try indoors. I warned you... Here how the controls work: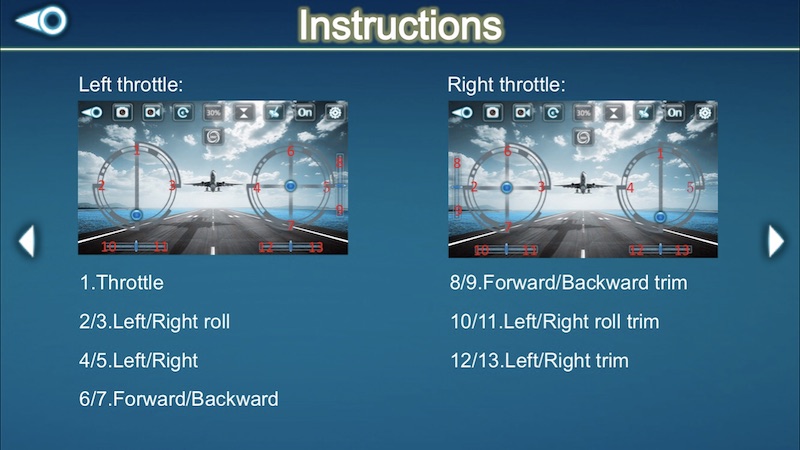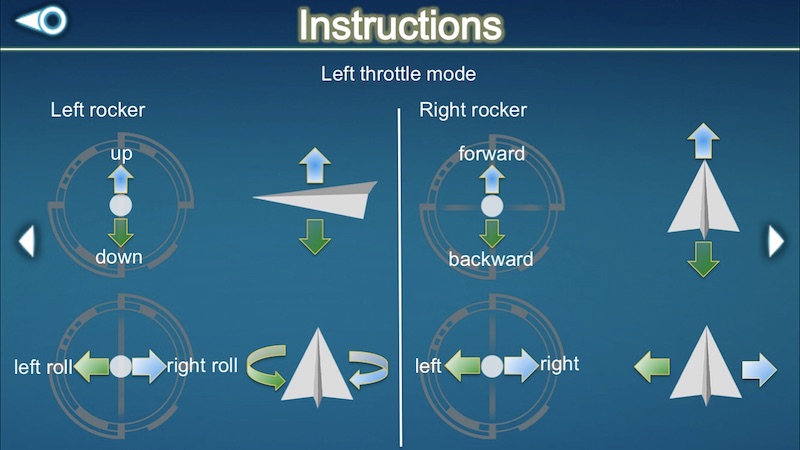 Touch the "up" icon (bottom left) to take-off.
Touch the "down" icon (bottom right) to land. Please note that when you touch "down", the mini drone takes a bit of time to automatically land. You may still have to control it a bit.
I use "stop" to land, when the drone is very low in altitude, close to the place where I want it to land.

Control this drone with a PlayStation 3 controller
Controlling this drone via touch screen is a real pain. I almost lost it a few times and so a friend of mine owning the exact same drone. But I recently found online a hack that improves the experience a lot. It's a driver that allows you to map a PlayStation 3 (also PS4) Dualshock controller to the touchscreen virtual sticks and buttons. It's awesome! Check the tutorials here (courtesy of
rc fly base
):
Tutorial, part 1, check the compatibility (you need an Android device with root access):

Tutorial, part 2, create a touch profile and see the hack in action:


Similar drone: Eachine E52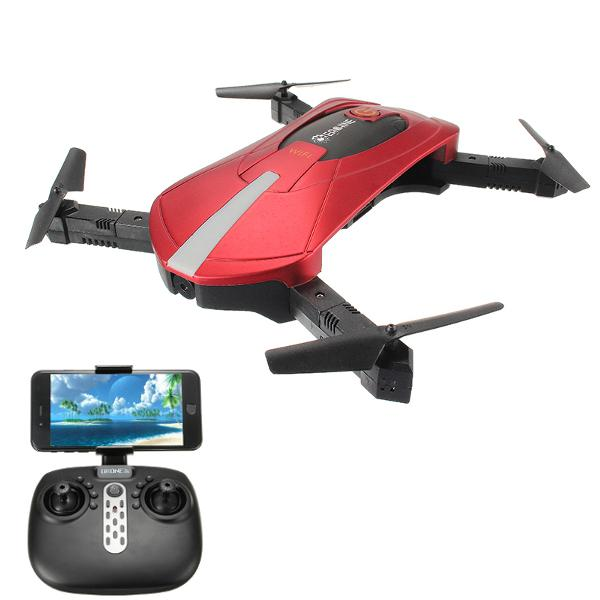 If you can't or don't want to use "hacks" like the PS3 above, you can still buy a newer version of this drone, which comes with controller included and costs even a bit less: 34 USD
Eachine E52 WiFi FPV Selfie Drone With High Hold Mode Foldable Arm RC Quadcopter RTF
But it uses a different type of battery hat I don't really like. E.g. the E50 model supports even the smaller batteries of my Eachine H8 mini drone, and since I have a 5-pack + charger I can use them also for the E50 model, which is quite nice.

Mini Review
From what I've tested, this is the 1st mini drone I've ever had with a built-in barometer for this price.
The video quality is not good
, check my video and see the footage I took. I do drone videos and the footage I took is unusable. Controlling it via smartphone or tablet can be a plus or a minus. I'm used to remote controllers and I hate controlling a drone with a tablet...
Pros:

very small, can fit your pocket
altitude hold
really a true new awesome experience controlling this drone with the PS3 hack (see above)
Contra:
bad video quality, not stabilized at all
too light: a bit of wind and the drone is moving around
sub-optimal touchscreen control, can be frustrating sometimes
you can't really use it for selfies as advertized
Pro or contra (depends on you): controllable via app.

If you intend using this to start the drone hobby, you will start wrong because you will focus on the app and not on the drone. Also, the control via app is very bad compared even to a mini remote controller available in other toy drones.
If you still wanna Order one, keep in mind you are buying just a toy!
Conclusion and my honest suggestion: for 15 USD you can buy a mini drone with remote controller, but no camera to distract you form flying. Check my mini drones comparison.
The price is ok, free delivery in many countries worldwide!