You are looking for a drone and you don't like the cheap ones with built-in (low quality) cameras. Most importantly you want to attach your GoPro (or a similar action camera) and you are looking for a good deal? Check this article, it's updated to contain the best drone of 2016.
A good place to browse is BangGood. I personally bought a few mini RC quadcopters, spare parts for my drones and many other electronics: USB power banks, battery chargers, cables and even smart phones for amazing prices. In a few cases I received defective product. I just had to prove with a video that the product was defective and received a new one for free, without the need to return the defective one. I call this awesome! Some products can be delivered from the USA or from the UK warehouse, but the best prices (and cheapest - even free delivery for small items) are from the default (Chinese) warehouse. You have to understand that the delivery from China can take up 2-3 weeks or even a month depending where you live and what you order. In Switzerland I mostly receive my orders in 2-3 weeks, exceptionally up to 4 weeks. I never had to pay customs. The prices listed in this post are taken from the Chinese warehouse.

Introduction
Below you'll find a list of drones I've found for you, but if you do your research (which you should do) I've created a list of things to check before buying:
Check if the gimbal for the GoPro is included, its quality, and how it works. Some models have a generic one, some have a stabilized one, some can be extended with a separate gimbal...
Check the flying distance.
Check if the package has the transmitter included or not.
Check if the GPS is included and has a "Return Home button" or fail safe landing feature.
Check on youtube footage taken by normal people with the drone you wanna buy.
Check on rcgroups.com or in some other RC forums what people say about the drone you wanna buy.
Abbreviations
RTF: "ready to fly". Everything you need is included in the package.
BNF: "bind-n-fly". Transmitter, battery, battera charger not included in the package.
Cheap alternatives to the GoPro
If you don't have a GoPro, or you need a cheaper action camera, you can buy one of those
(camera prices last checked and updated on 2016-05-27)
:
Browse
action cameras on banggood
 for more choices.
Here a YouTube comparison video between SJ4000 SJCAM vs AMKOV SJ5000 vs GoPro HERO 3 BE vs SONY AS100V.

Drones under 300 USD worth checking if you want to connect your own action camera
Here comes the list of drones capable to carry a GoPro or similar (e.g. a Xiaomi Yi is a very good alternative) action camera.
I start listing two models which on my opinion are worth listing even if they come with their own integrated camera.

3DR Solo Quadcopter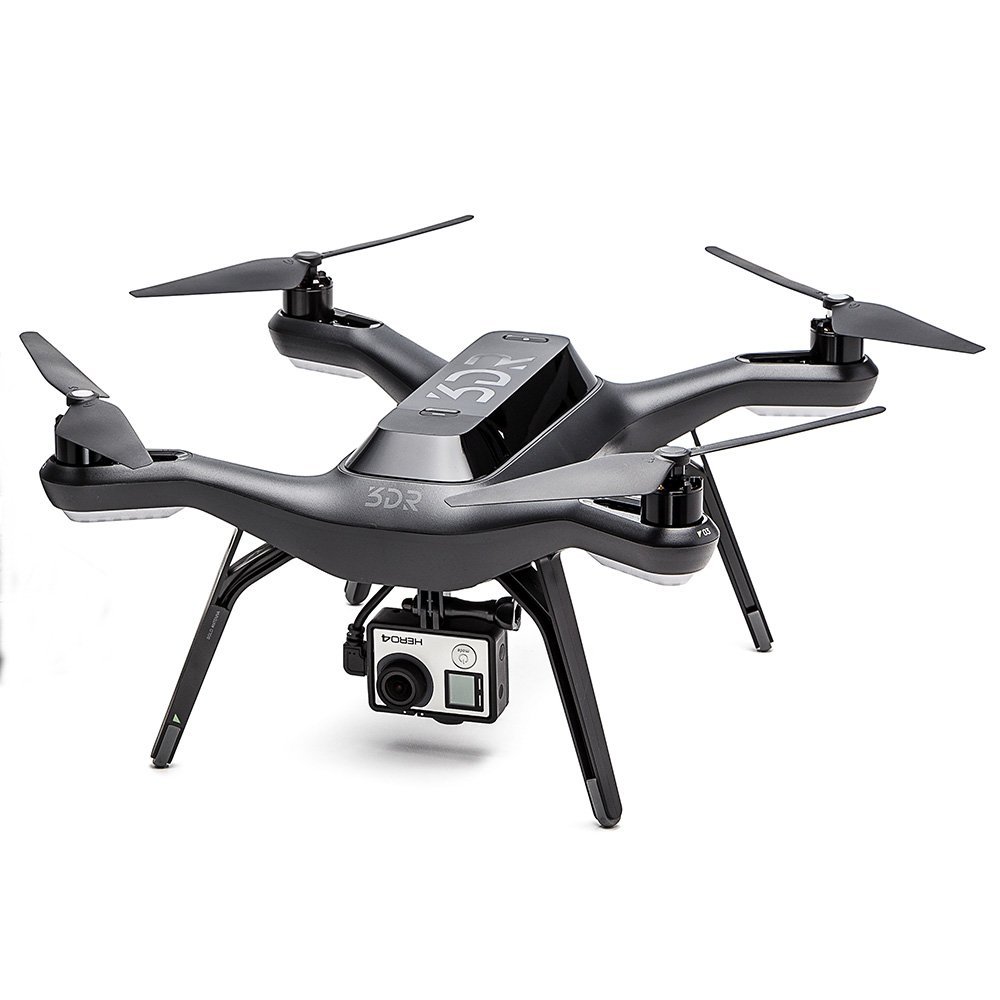 3DR Solo on Amazon - if you own a GoPro 3 or GoPro 4 and you can order from Amazon (USA): this is the drone for you! It's THE drone made for the gopro. The price sunk from the initial 1000+ USD to less than 300 USD, thus it's really an interesting drone. I've put it at the top of the list because it's the one with the best quality/price ratio. Buy it with the gimbal and send your gopro in the sky for great aerials. Enjoy.

UPair Chase One Quadcopter
Note: not to be confused with the "old" UPAir Chase quadcopter (there are many bad reviews about the old model). The company was acquired and they developed a new improved version based on the old drone. It has almost the same shape, but many improvements.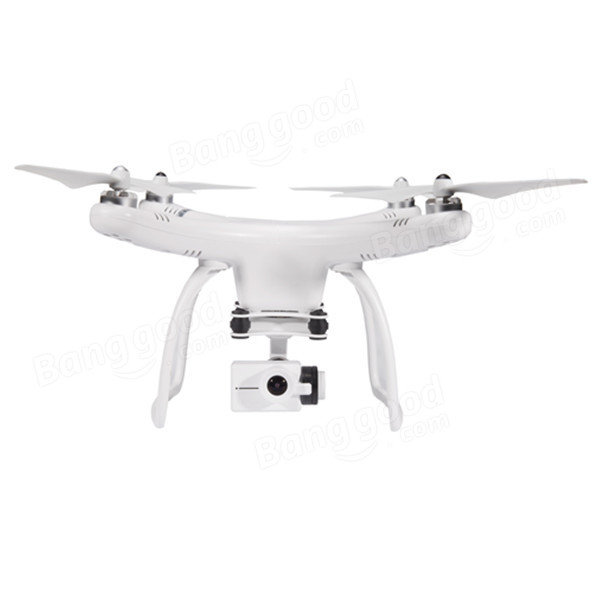 New UP Air UPair-Chase UPair One 5.8G FPV 12MP 2K & 4K 24FPS HD Camera With 2-Axis Gimbal RC Quadcopter - 180+ reviews, Rate: 4.9/5
Price: 310 USD 2K camera, 384 USD: 4K camera (last checked and updated on 2017-01-06)

Flying time: 16 minutes "full load", 22 minutes "aircraft alone"
Control distance: around 1km
Video feed distance: around 800m
GPS: GPS stabilized flying (like a DJI Phantom) and return home feature
Gimbal: brushless gimbal included. Note: the camera is attached to the gimbal (like a DJI Phantom series camera).
FPV: telemetry included, monitor included!
App control: the drone has even an app (just like DJI Go)
You can choose between 2 models: Full HD 1080p (at 60fps) which they call 2K and a 4K model that comes with a camera that shoots 4K at 24fps.
Update: since the camera is integrated in the gimbal, it's not possible to attach a GoPro, unless you buy a separate gimbal, but then you may need more customizations (telemetry, FPV...).
This drone looks like a copy of the DJI Phantom 3 drone and it's very promising. Definitively if I had to buy my first drone I'd give this a chance.
If you consider that a cheap action camera costs around 70 USD, a gimbal costs also around 70 USD, and telemetry (antennas + monitor) would cost definitively also around 100 USD, this drone is really a bargain! Even if you have to use its own camera and not your GoPro.

Xiaomi Mi drone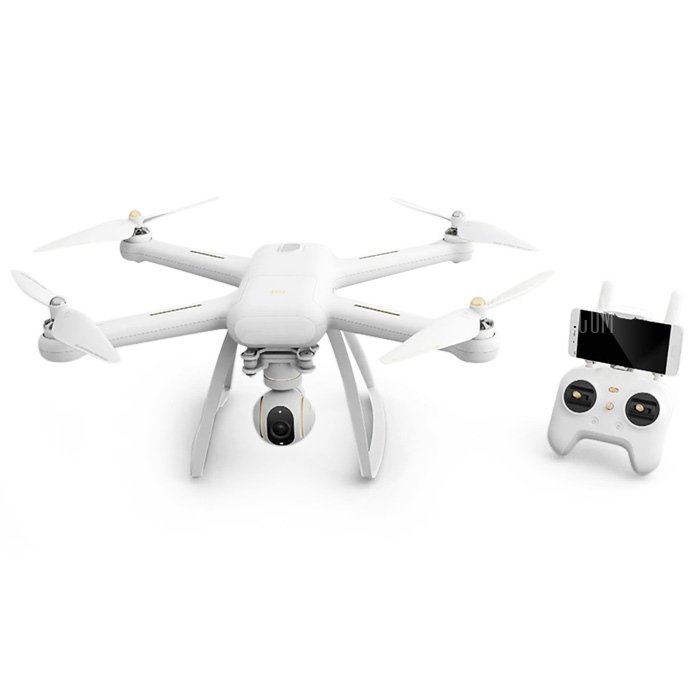 Xiaomi Mi Drone WIFI FPV With 4K 1080P Camera 3-Axis Gimbal RC Quadcopter
Price: 420 USD (last checked and updated on 2017-01-06) + 10% voucher (coupon code: 95c89f) 42 USD discount = discounted price: 378 USD
Description:
Camera: 1080P Wifi FPV
Gimbal: 3 Axis
Smart Battery: 5100mah 17.4V
Flying time: 27 mins
Maximum distance: 1km (even less if you consider wifi interferences e.g. in an urban area)
Weight: 1376g (to compare, a DJI Phantom 3 standard with battery weights 1216g)
Features:

1080P Wifi FPV camera, 3-Axis gimbal

Video resolutions: 1920 X 1080p 60fps 1920×1080p 30fps 1280×720p 120fps

720p preview resolution (on app)

Control via Mi Drone app (Android) / Mi Drone app (iOS)

Pointing flight feature: the drone can fly to the point you touch

Orbit feature: fly around a point

Waypoints feature: set waypoints on a map for autonomous flights

4-propeller system with detachable shields

17.4V battery 5100mAh, 27 minutes non-stop flying

Camera attached to a 3-axis gimbal, stabilizes up to 2000 vibrations per second

GPS + GLONASS + vision-based positioning

Autopilot options: automatic take-off + landing, waypoint flight path planning, tap to fly on 

map, circle an object on the ground

Intelligently detects low battery and returns home automatically

Real-time location tracking for easy retrieval even post crash

Hovers automatically at the edge of no-fly zones

Built-in PCB antenna array in remote control for maximum reach

Modular design and foldable landing gear
I own a Xiaomi Mi 4c phone, some friends in Europe own Xiaomi phones too and they are all satisfied. So the Xiaomi brand is well known and has good feedback. The drone looks promising, however, according to some reviews I've read so far it has some strange limitations such a beginner mode that can be unlocked only after a certain amount of flying time. Also they say it's lightweight, but it actually weights around 100-150g more than a DJI Phantom 3 drone. But it has a good "modular" design: for traveling you can fold the landing gear, remove the camera and it will fit better your carry on baggage. It's still not as portable as a DJI Mavic Pro, but for this price what do you want? Last but not least, to be honest with you, consider buying a DJI Phantom 3 Standard (on Amazon) for 400 USD (UPDATE 2017-01-12: when I updated this, it was available for 400 USD, a real bargain, now I see it at 480 USD which is still good to me, but if those extra 60 USD and the fact the the Mi drone is more portable make a difference for you, you may give a mi drone a try, but I still believe that the Phantom 3 is way better and recommend it more), which is on my opinion a better drone. The Mi drone wins only in portability and in some countries it may be just a bit cheaper than the DJI Phantom 3 Standard, but I believe a DJI drone is always worth the investment.
Cheerson CX-20 (also known as Quanum Nova)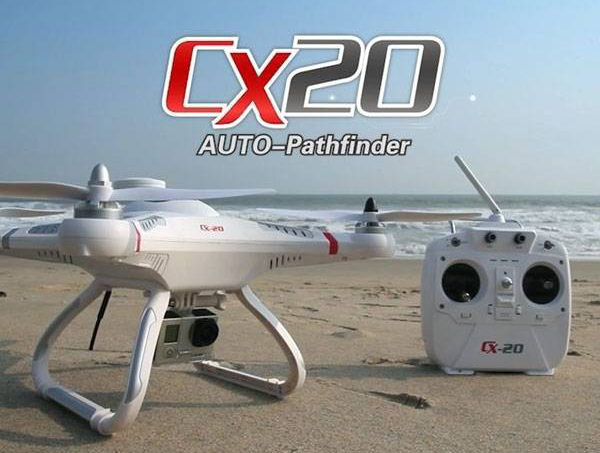 as you can see below, the Quanum Nova is exactly the same as the Cheerson CX-20, just rebranded and renamed.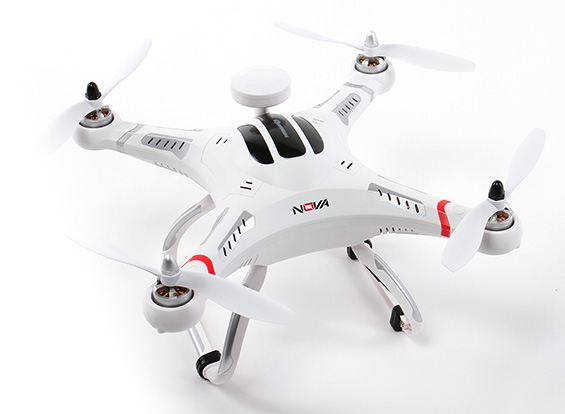 Cheerson CX-20 Open-source Version Auto-Pathfinder Quadcopter RTF (ready to fly)
Price: 216 USD (last checked and updated on 2016-12-28)
8% OFF Coupon Code: bggcx-20
Check my article Things to know if you plan to buy a Cheerson CX-20

Flying time: about 15 minutes with the standard 2800 mAh battery of course.
Charging time: about 2-4 hours (with an Imax B6-AC battery recharger: less than 1 hour)
Control distance: about 300m
GPS: GPS multi-rotor autopilot system, Come Home button, waypoint flying, stay in the same position etc.
Software: Mission Planner (for Windows), APM Planner (for Mac) etc.
GoPro Gimbal: included (a better gimbal is recommended if you are into aerial videography).
Syma X8G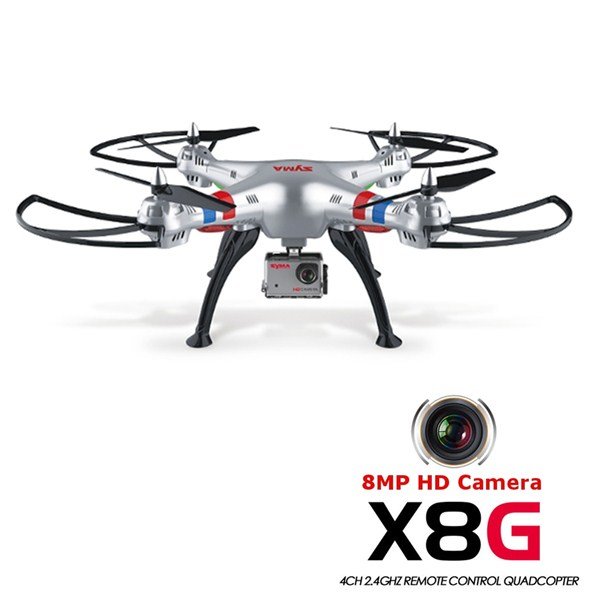 Syma X8G 2.4G 4CH With 8MP HD Camera Headless Mode RC Quadcopter
Price: 120 USD - Syma X8G on Amazon: 106 USD (last checked and updated on 2016-12-28)
For this amazing price you get a drone with a GoPro clone.

Flying time: 10-12 minutes
Charging time: 70 minutes
Control distance: 100m
Wltoys V303 Seeker Quadrocopter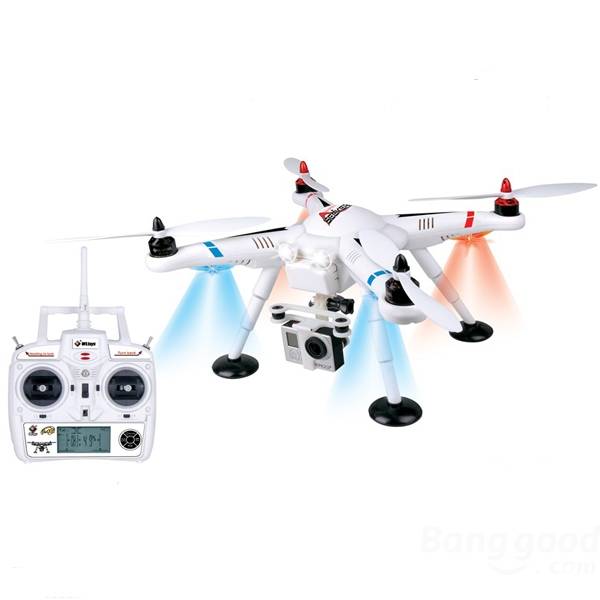 Wltoys V303 Seeker Quadrocopter 2.4G FPV GPS RC Quadcopter for GoPro on Amazon
Price: 275 USD (last checked and updated on 2016-12-28)
XK DETECT X380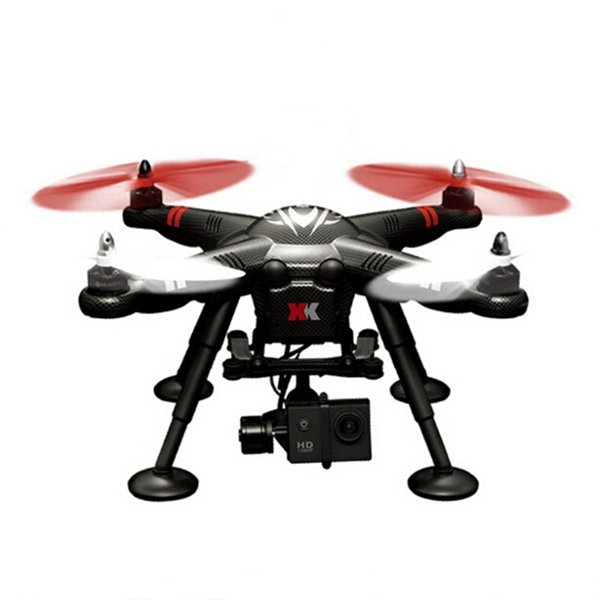 XK DETECT X380 X380-A X380-B X380-C GPS 2.4G 1080P HD RC Quadcopter RTF
Price: 296 USD - XK Detect X380 on Amazon: 290 USD
(last checked and updated on 2016-12-28)
It looks like the Wltoys v303 listed above and it can be purchased in several editions. The edition with the gimbal for the gopro (X380-C) costs much more and it includes an action camera, but you may buy a gimbal separately and the costs should be more sustainable.

Kai Deng K70C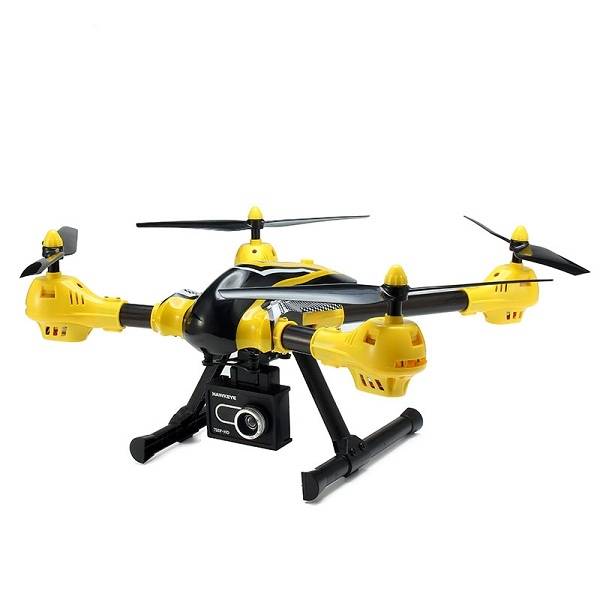 Kai Deng K70C With 2MP Wide Angle HD Camera Gimbal 3D Rolling RC Quadcopter RTF
Price: only 70 USD (last checked and updated on 2016-12-28)

Be aware that for this price you can't expect a good quality. But if you want a cheap drone (maybe your first drone) just to see how it goes, this one could be good. It even comes with its own action camera which you can unmout and try your GoPro. Again, check the reviews in the banggood page. Personally I'd invest a bit more and take a better one (like the UpAir) or spend less and take a mini drone without camera.

Blade 200 QX BNF with SAFE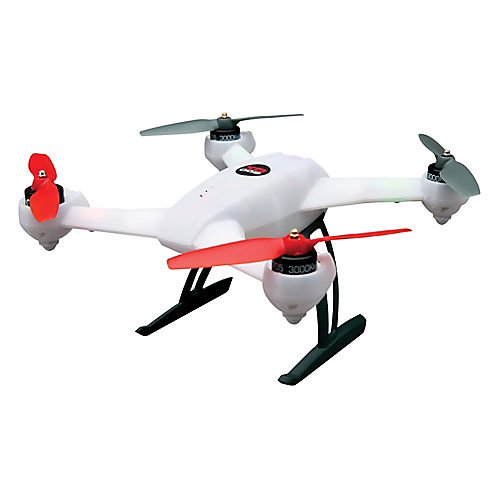 Blade 200 QX BNF with SAFE on Amazon
Price: 141 USD (last checked and updated on 2016-12-28)
BNF = transmitter not included
High performance brushless motors.
"The Blade 200 QX can also carry a GoPro, but it's probably around the maximum payload for that quad, so flight performance is likely quite affected."

Flying 3D X6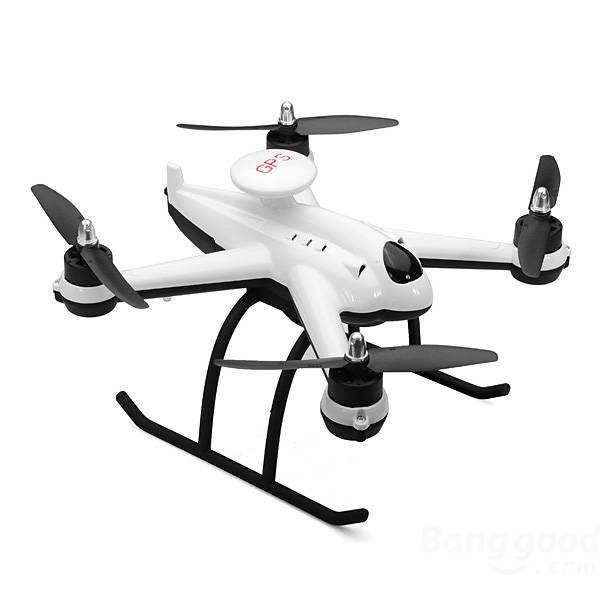 Flying 3D X6 Plus 5.8G FPV With 720P Camera 2.4G 6CH GPS RC Quadcopter RTF
Price: 188 USD (last checked and updated on 2016-12-28) the price went up to 220 USD and now is down again to 188 USD.
Flying time: 4-15 minutes
Control distance: about 500m
GPS: Come Home Button

A racing drone
Look at these videos:
Mr Steele YouTube channel
If you are excited about this kind of videos and this kind of flying, you probably wanna consider to buy a racing drone.
Check these 2 kits which on my opinion are really good to begin with.

Eachine Racer 250 FPV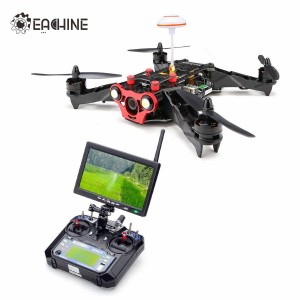 Eachine Racer 250 FPV drone with i6 transmitter, 7 Inch monitor, HD camera, RTF
Price: 280 USD (last checked and updated on 2016-12-28)

Eachine Falcon 250 FPV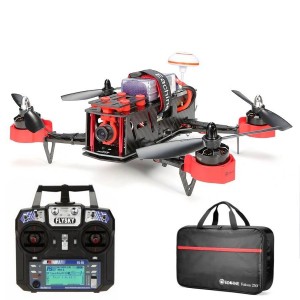 Eachine Falcon 250 FPV drone with FlySky i6 transmitter, HD Camera, RTF
Price: 233 USD (last checked and updated on 2016-12-28)
This kit is amazing for a starter. If I had to buy a new drone right now as first model to play with, I'd go for this one and I'd attach a Mobius camera to it.

Final considerations
Maybe all the drones listed above are still too pricey or you are not yet convinced if this hobby is for you or not? Then do like me, start with a
mini toy quadcopter without camera
, fly it inside, outside and have some fun. Also a mini quadcopter is a very good present for a kid. A quadcopter with a camera can be dangerous for a kid. I've seen it with my eyes. Kids tend to focus on the smartphone/app, not on the quad. Teach them the opposite: to check the quad, then after many hours of experience with some mini quadcopters you can give them a camera drone.